A Man's Guide To Family Law - Continuing Education for Attorneys
---
Thomson/Reuters has asked me to prepare a Minimum Continuing Legal Education webinar for their West Legal Ed Center to show other attorneys the issues presented when representing fathers and husbands in family court.
Being asked is quite an honor and I feel privileged to have the opportunity to share my experience and knowledge with lawyers across the country about the needs of men in family court.
If you want to see the webinar you can go to westlegaledcenter.com and search for A MAN'S GUIDE TO FAMILY LAW.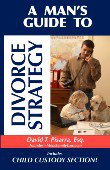 A Man's Guide To Divorce Strategy