DOWNLOAD THIS BOOK AND AVOID GETTING DESTROYED IN A DIVORCE!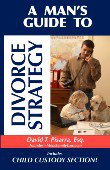 ********************************
******************


MOST MEN GET MANIPULATED IN THE DIVORCE PROCESS, BY THEIR SOON-TO-BE-EX WIFE, AND FREQUENTLY BY HER LAWYERS.
This book gives you the tools to protect yourself against her, and her attorney.
Based on over TWO DECADES worth of experience working with guys just like you, this book answers the questions you need to ask.
In direct, easy to understand language without all the "legalese".
You need to know what your rights are, and this book tells you what they are, in language you can understand.
As a husband, you want to provide and protect your spouse. When faced with a divorce, you probably just want to get it over with as quickly and painlessly as possible.
But that doesn't mean you have to give up all of the assets that you have earned. This book shows you how to keep your half of the assets, and give her half of the debts.
THIS BOOK EXPLAINS TO YOU WHY YOU SHOULD NOT TAKE THE BOAT OVER THE HOUSE, HOW YOU CAN GIVE HER THE WEDDING CHINA (WHICH YOU COULDN'T CARE LESS ABOUT) BUT STILL TAKE HALF THE VALUE OF IT.

YOU EXPECT TO PAY TO GET OUT OF A MARRIAGE, AND THIS BOOKS EXPLAINS IN CLEAR LANGUAGE HOW TO LEAVE A MARRIAGE WITH JUST AS MANY ASSETS AS SHE DOES.

IF YOU'RE WONDERING HOW THE ASSETS AND DEBTS ARE DIVIDED IN A DIVORCE - THIS BOOK COVERS THE 7 MAIN AREAS EVERY MAN IS WORRIED ABOUT.

AND MOST IMPORTANTLY, IF YOU NEED TO UNDERSTAND WHAT WILL HAPPEN WITH YOUR KIDS, AND WHAT YOUR RELATIONSHIP WITH THEM WILL BE, THIS BOOK SHOWS YOU THE 19 THINGS YOU NEED TO KNOW ABOUT HOW TO PROTECT YOUR PARENTING TIME.

GET ANSWERS TO THE 27 TOP QUESTIONS MEN ASK ABOUT DIVORCE.

LEARN HOW TO AVOID THE TOP 3 STRATEGIC MISTAKES!
---
WORTH THOUSANDS IN LEGAL ADVICE.
---
ONLY $9.97 AND YOURS IN MINUTES!
********************************