Can Brad Pitt's Divorce Records Be Sealed To Protect The Children?
---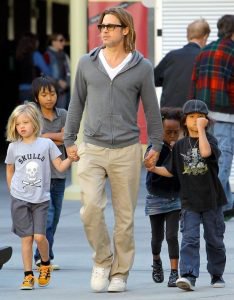 Brad Pitt takes the kids to the movies.
We often have divorce and paternity clients who want to keep their "dirty laundry" quiet, and the other side knows it, they use it as a way to gain leverage in a divorce or child custody case. When someone wants to keep their case confidential or private, it all depends on what type of case has been filed with the Superior Courts of California.
Paternity cases, where the parties are not married but have a child together and are working out a parenting plan that includes custody and visitation and child support – everything is considered to be confidential. This goes back to the days when children were considered to be "legitimate" or "illegitimate" by whether or not they are born during marriage. This had huge impact in inheritance rights. In California we did away with the concept of legitimacy, and today so long as a person is determined to be legally a parent of a child, they will qualify for inheritance rights.
Divorce cases have traditionally been public and open to court watchers. The courts have the power to seal records if there is a strong privacy concern that overrides the public's need to know, and they are generally not sealed.
When HollywoodLife.com called me to discuss Brad Pitt's latest legal maneuver to try and seal the records in his divorce from Angelina Jolie, I told them this:
On Dec. 7, the judge denied Brad's request, which, according to California divorce attorney, Dave Pisarra, wasn't surprising. "Divorces are public," he explained to HollywoodLife.comEXCLUSIVELY. "If it was just a paternity action, it would automatically be private and confidential, but that is not the case here."
You can read the full article here.