Can Kim Kardashian Win Child Custody From Rob Kardashian and Blac Chyna?
Dec. 21, 2016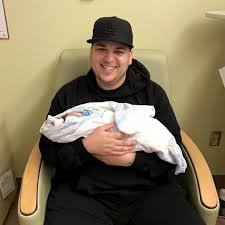 Rob Kardashian with his baby daughter Dream.
Domestic violence rumors are swirling around Rob Kardashian and his fiancé and mother of his baby, Blac Chyna. When it comes to situations that involve domestic abuse, it's always hard to tell who will end up with the children, but in this case, could Kim Kardashian come to the rescue of baby Dream?
I was talking to HollywoodLife.com about this possibility. While it's not impossible, it's not that likely unless,
"A judge could determine that both Blac and Rob are unfit to parent baby Dream," California attorney David Pisarra, father's rights champion and author of A Man's Guide to Domestic Violence, told HollywoodLife.com EXCLUSIVELY. "That would require a Department of Child and Family Services intervention and a determination that there were grounds for an investigation into both Rob's and Blac's parenting ability."
While I imagine the gratification that would come to the Kardashian women who would be in the prime position to say "I told you so" to their baby brother, is immense, the damage that would be done to the baby and the relationship between her parents would hopefully stop any DCFS action, unless it's TRULY needed.
You can read more of what I say here.