Can Tyga Pay Less Child Support if Blac Chyna Marries Rob Kardashian?
---
Whenever the babymama gets a new man, the ex wants to know if he gets to pay less Child Support, I was asked about this for HollywoodLife.com in regards to Blac Chyna potentially marrying Rob Kardashian – the short answer is the new man is not responsible, and it wont help in lowering the child support that Tyga is paying.
"If Blac were to get a new job earning 7 figures, like a TV contract, that would likely have very little effect on Tyga's child support payments. As long as Blac has custody and until that child turns 18, Tyga is financially responsible. There is little that can change that," says David Pisarra, a father's rights expert and California divorce attorney. Maybe this will motivate Tyga to get his finances in order and work harder to support his son!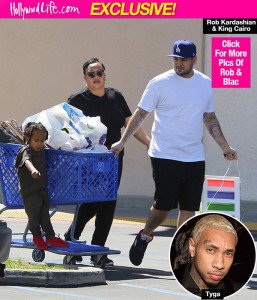 Rob Kardashian and Blac Chyna go shopping.